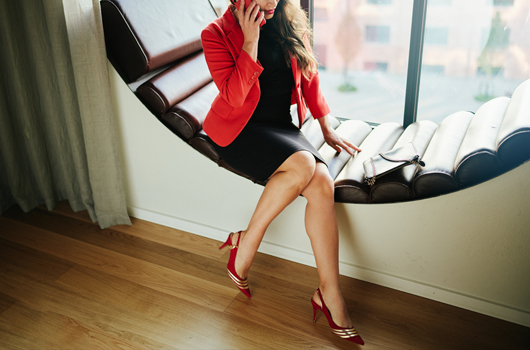 CLEANING
Cleaning your shoes the right way is very important to make sure you don't damage the leather and it will also make your shoes last longer. Leather is skin and therefore it needs the proper care depending on the type of skin that your shoe are made of.
Nappa and Suede are the most common leather types that are used to produce high quality footware for women.

SUEDE
Suede is the inner surface of animal hides, visible on the underside of leather. Leather is a material created by processing the hides, pelts and skins of animals.
If you get some dirt or stains on your suede heels use the sponge you received in the shoe box. Place the sponge on the shoe and gently wipe it up to down to remove dirt or stains.

NAPPA
Nappa leather is made from the topmost layer of calfskin, goatskin or sheepskin. Therfore Nappa skin is very delicate and need special care.
You can remove dirt and dust with a dry lint-free cloth. Don't use any liquid material or soap on the leather.

To give the leather a glossy look you can polish with a shoeshine sponge or wax specialy produced for high heels made of nappa leather. When you use a spray do not hold the spray directly on the shoe, keep a distance and spray as straghit as possible while standing outsite.
Do not spray on the ornaments.

CARING
Leather expands and adjust to your feet, but if you like to expand them even more and don't have the patience to wait you can get them blocked by a proffesional shoemaker. We recomend that you should only block half a size at a time and maybe twice, rather than stretch them too much from the beggining.
You can also ajust your heels by wearing them at home and walk around the house for a couple of hours per day. Afterwards you will notice that your heels will fit and feel more commfortable.
Keep your shoes away from excessive heat, rain, snow, sleet, hail and other liquid hazards, but should the inevitable occur, then allow them to dry out naturally, don't put them close to the radiator as it will melt the glue and ruin the shoes.
The outsole on your shoes is leather covered with gold. We hardly recommend to resole the shoes at the first signs of wear and tear. That way you will protected your shoe and it's easier to repair them and make them last longer. Be mindful of the heels don't drive with your heels on as they may get scratched. Should your heels get scratched, this can usually be repaired by a professional shoemaker.
Don't ever use soap or other suede brushes on your shoes. It will only tear the material and pull out the smaller fiber and eventually create holes in it. Use the sponge which is our boxes.
STORAGE
Give your shoes a 24h dry out once a week – leather needs to breathe.
Store your shoes in you box or in the dust bags in a cool, dry place.
Avoid using plastic and don't place your shoes close to others.
---
SHOES TIPS
Always check the material your heels are made of before you start cleaning and follow the instructions from the shoebrand

Your heels will need special treatment depending on the material

Most materials especialy leather are very fragile to rain and snow so you should avoid wearing your heels in these weather conditions

Avoid walking with your heels on briks

Avoid driving car or biking with your heels

Store your heeels in a dust bags or in the original box to protecte them

Store in a dry place

You can spray your heels to protect them from dirt and water but it depends on the material and it does not make the shoes waterproof

Change the heal tap when it's worn of, if it's loose. You can go to the shoemaker to put some new ones on and make sure they do it correctly

High quality heels have leather outsoles that's why it looks extravagant and gives a special look. If you want your outsolesole to last longer go to a proiffesional shoe maker and have him put a rubber sole under neath you pads. You heels will last long and you are protecting them for damages